Message from the President
Makino is a company with:
A sincere attitude and a transparent, warm atmosphere,
confident team members who are proud of manufacturing,
challenging spirits to take on something new.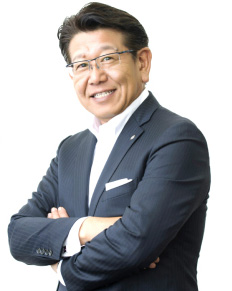 Enjoying work makes your life better. We care about creating an
environment where everyone in our company can work comfortably.
Our company, Makino, is a machinery maker which has improved its technologies of
"powder and water."
" Improving ourselves through competition " is a motto we have cherished since the
establishment. Our employees' professionalism is unmatched in this field, as well as the
manufacturing field.
We devote ourselves to pushing our company forward.
The "filter press", one of our main products of filtration, is used as a wastewater treatment, and
is processed in various fields such as ceramics, chemical, industrial production, food, and
waste treatment. We are proud of being a leading manufacturer, especially in public works and
infrastructure.
As our company's motto: "Our machine makes everyone happy" tells that we want to satisfy
the users of our machines, as well as the users of the products made with our machines.
The presence of customers who appreciate the value of our machines is our pride and confidence.
We dedicate ourselves to manufacturing in a warm and friendly atmosphere.
That's "What Makino is like."
By encouraging a big smile, greetings and 5S activities, the company has a pleasant working
environment. For example, there is a large full-length mirror on each floor forall the employees and
receptionists for caring their appearance and keeping their big smiles to welcome customers.
My personal motto is to enjoy working. Makino's key people are those who greet in a pleasant way and
have a big smile, those who actively speak up and cooperate with other employees,
those who are interested in the job, and those who work positively.
Our company has provided technologies in broad fields of various markets since its foundation
in 1932. We strive to continue being an attractive company for all stakeholders due to our achievements
and technologies cultivated over the years, as well as our abundant line-up of products.
I hope promising young employees work hard as one of the members of our company.