Shorter, more delicately
Spray drying
As the spray drying – producing dried particles from slurry – has less thermal alteration, and is a
good method for large production, granular products can be produced from many different types of
slurries.
Spray Dryer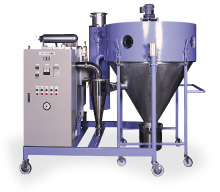 Changing a liquid material (a slurry) into the form of
minute droplets, it instantly forms a powder
(a granular product) upon contact with hot air.
There are two types of spraying systems: a disc
type and a nozzle type.
Photo of slurry (before drying)

Photo of granular product after dry


Magnification ratio: 300 X
Temperature/humidity-controlled rapid drying
Green-body drying of sanitary ware, tiles, bricks, roof tiles, refractories, etc., significantly shortens the
drying time with less cracks and deformations, thus improving productivity.
Eco Dryer
(Temperature/humidity-controlled rapid dryer system)
It achieves the best possible drying of fragile products,
having complex shapes and non-uniform thicknesses.
The batch type is suitable for high-mix, small-lot
production. The tunnel type is suitable for mass production.
Examples
Sanitary ware

Electric insulators