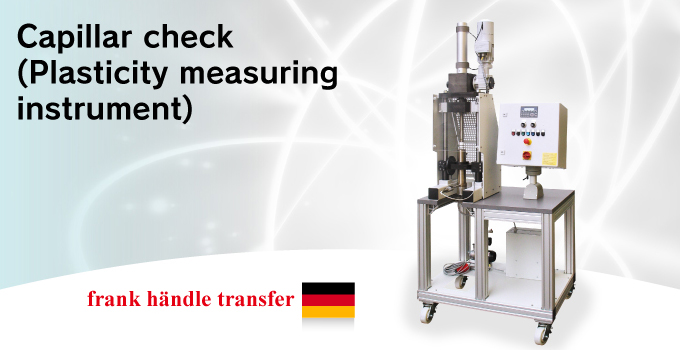 The measuring instrument converts the extrusion
characteristics of the raw material into numerical values.
Features
The fed material is extruded by a piston at a constant speed, and the load is measured during
extrusion.
The extrusion pressure, wall pressure, electric current, torque, material temperature, extrusion
piston speed, etc. can be measured.
The extrusion die is replaceable.
Changes in the raw material characteristics can be checked numerically, and the mixing and
kneading of the material can be adjusted accordingly.
It contributes to a stable extrusion and easy process control.
Material quality control at ceramic product production plants, material analysis and quality control in the laboratories of universities, public institutions, etc.
Specifications (example)
Model
KPM0
Material feed opening
Manual swing type
Dimensions of material cylinder
(mm)
⌀35 × L240
Extrusion pressure
(ton)
3
Power
(kW)
1.1
Dimensions L × W × H
(mm)
1100 × 800 × 2400
Weight
(kg)
500
We design machines as per your products.
The specifications and dimensions are subject to change without notice.