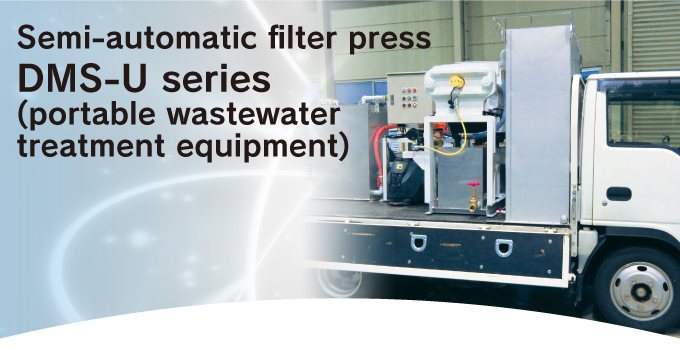 Main specifications
| Filtration type | Operation system | Filter plate material |
| --- | --- | --- |
| Simple feed | Semi-automatic | PP |
Portable wastewater treatment equipment for wastewater from
concrete/asphalt cutter
Features
Wastewater treatment equipment mounted on a truck, combining a slurry tank, a feed pump, a filter
press, a cake receiver, and filtrate tank in a single unit.
With its compact design it is used in any work environment.With its compact design it is used in any work environment.
Unlike permanent equipment, it does not require foundation work, plumbing, etc.
The simple structure makes maintenance easy.
Auxiliary devices such as a generator are available as options on request.
Industrial waste (wastewater from concrete/asphalt cutter)
Other various industrial wastewater
Process flow

Collected wastewater is poured
into slurry pit.


Water is extracted by the filter press.

Low water content cake
Portable type flow diagram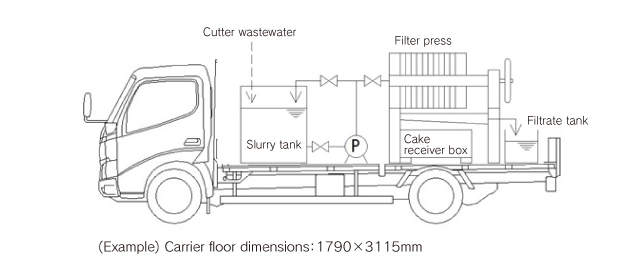 Stationary type flow diagram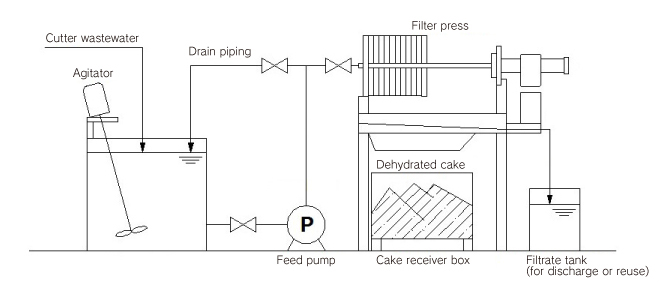 Specifications
Type
DMS-80U
DMS-120U
DMS-150U
DMS-200U
DMS-230U
Filter plate dimensions
(mm)
610 × 610 × t55
Cake size
(mm)
540 × 540 × t30
Maximum throughput
(㎥ / day)
2.3
3.7
4.9
6.5
7.4
Number of chambers
(chamber)
9
14
18
24
27
Filtration area
(㎡)
5.0
8.0
10.0
13.0
15.0
Filtration volume
(ℓ)
75
115
150
200
230
Length L
(mm)
2450
2730
2960
3550
4000
Width W
(mm)
1520
Height H
(mm)
2650
Weight
(kg)
1450
1550
1600
1750
1850
The values shown for the machine dimensions and weight are those for the filter press alone.
The maximum processing volume is a reference value that assumes a slurry concentration of 20%, a cake water
content of 23%, and five-time filtration per day by the filter press.
The specifications and dimensions are subject to change without notice.