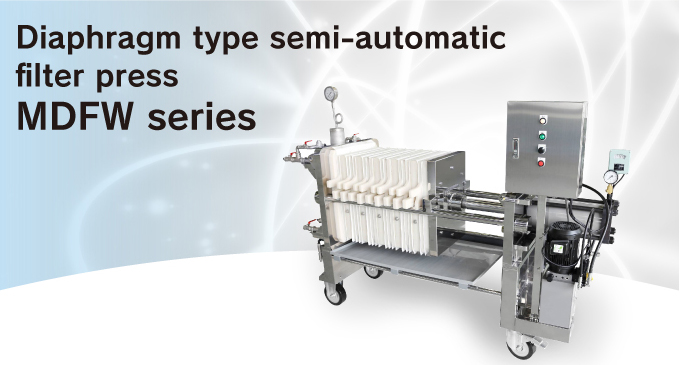 Main specifications
| Filtration type | Operation system | Filter plate material |
| --- | --- | --- |
| Diaphragm | Semi-automatic | PP |
A diaphragm type filter press with cake blow and cake
washing mechanisms
Features
Top-feed double type in which a normal plate, a filter frame, a diaphragm plate, and a filter frame are
assembled in that order.
Corner-cross feeding of washing liquid from the corners to the cake makes cake washing effectively.
Using forward washing at the same time makes cake washing more effectively.
Slurry contacting parts are all made of resin, so metal contamination is drastically reduced.
Optional forward and reverse air blow mechanism makes it possible to reduce water content.
Battery material production processes processes
Chemical and mining and manufacturing production processes
Medicine and cosmetics production processes
Metal refining processes
Rare-metal and noble-metal collection processes
Semiconductor production processes
Cake washing flow diagram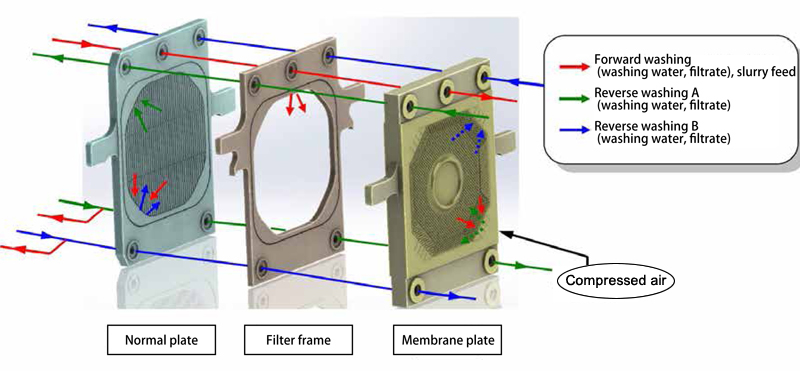 Overall dimensions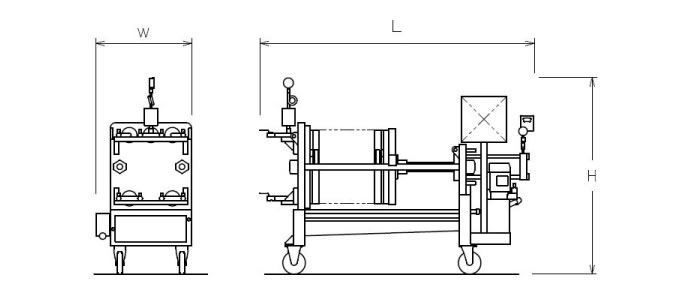 Specifications
Type
MDFW470
Filter plate dimensions
(mm)
470 × 650
Cake size
(mm)
410 × 410 × t30
Number of chambers
(chamber)
4
10
20
Filtration area ※
(㎡)
1.08
2.92
5.84
Filtration volume ※
(ℓ)
16.6
41.7
83.4
Length L
(mm)
1900
2690
3390
Width W
(mm)
950
Height H
(mm)
1750
Weight ※
(kg)
1000
1500
1850
※indicates reference value.
The filtration volume is calculated by multiplying the number of chambers by the volume per filter plate.
The filtration volume may vary according to the type of processing.
The specifications and dimensions are subject to change without notice.